2022 PARC National Resource Directory is here!!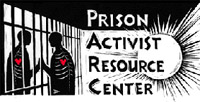 PARC mails a free national directory of resources to prisoners, their friends and family members. The 2022 edition is here!!
 
Download a PDF copy of the 2022 Resource Directory today.
Recent Alerts
About PARC
PARC is a prison abolitionist group based on Oakland, California committed to exposing and challenging the institutionalized racism, sexism, ableism, heterosexism, and classism of the Prison Industrial Complex. Learn More or Donate to PARC.